Back to About Us
​​​Introduction
Rise Technical Recruitment are delighted to have been awarded a place on the RM6290 - Executive and Non-Executive Recruitment Services framework. We have been appointed to support with Lot 1: Executive Search – Grade 6, SCS1, SCS2 and equivalents.
​
Rise Technical is thrilled to apply our vast knowledge of technical recruitment to further add value to our clients in the UK public sector.
We're pleased to provide our customer prospectus: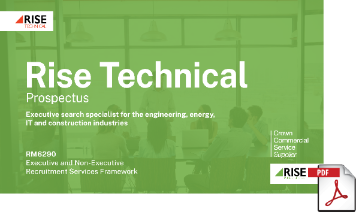 ​

What we do
Rise Technical works closely with our clients to embed into their organisation and provide solutions for their recruitment challenges.
Rise Technical will ensure the three elements of Merit, Fairness and Open Competition are covered throughout the campaign.
We will ensure each candidate submitted is competent to do the job. We will do this by meeting the candidates face-to-face or via a Teams call. We will discuss all previous experience and ask questions based around the skills needed.
We conduct Fair and Open Competition and all our opportunities are advertised across 39 job boards, alongside our website and LinkedIn. We write all of our own adverts and do not just copy and paste the job description provided by the client. We take measures to inform candidates about the role and requirements however we ensure no exclusive language is used that may deter people from applying.
​
Our existing recruitment process adheres well to the Success Profile Framework. When assessing behaviors Rise Technical's recruitment foundation is based on motivational matching. We use models such as Maslow's Hierarchy of Needs and Hertzberg's Hygiene Factors to determine the true motivations of a person. We will work with candidates to determine their Triangle of Needs, which establishes the level of motivation (want) based on previous career development (reasons for leaving) to secure their next results (need).
We are considered a reputable and recognisable brand across the UK recruitment market. This is championed by our Google reviews where we have over 1400 reviews at 4.6 stars. Having this trustworthy brand means you are working with a recruitment specialist that has an excellent reputation for providing a brilliant service and supporting job seekers. We also have 10,000 website hits per month, giving us organic traffic directly to our website.
​
​